Explore Zanzibar in tanzania. Zanzibar is a tropical island with sandy beaches and is often included as a relaxing end to a Tanzanian or Kenyan safari. Zanzibar's gentle coral beaches are calm with unpredictable tides, often allowing you to walk at low tide up to a quarter mile on the sand and sometimes all the way out to the reefs.
Zanzibar's world-renowned beaches are complimented by its rich cultural history. Its oldest remaining building is a mosque at Kizimkazi that dates back to 1107 and is worth a visit, if you can tear yourself away from the beach. The capital city of Stone Town is a UNESCO world heritage site and is fascinating for its culture, Sultan's Palace, and mosque. Zanzibar offers a plethora of water-based activities, including snorkeling, scuba diving, kite surfing, fishing, kayaking, and sailing.
The best beaches with less variations in the tide are on the west coast up to the northern tip of the island, while the best snorkeling and scuba diving is off the coast of Mnemba Island, located east of the northern tip of Zanzibar.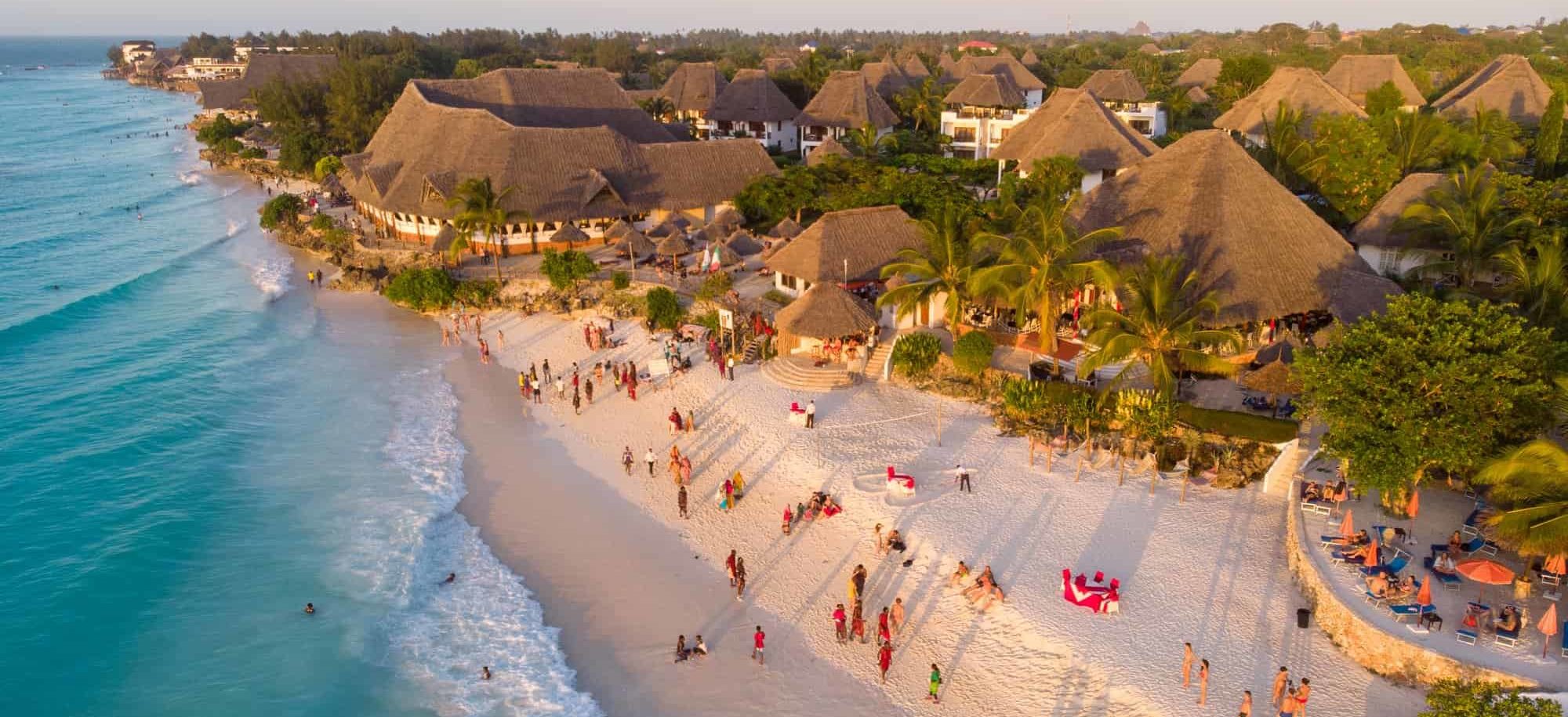 The Sea
Visitors will see an array of boats, some of which will unfamiliar. Zanzibar has four basic traditional craft: The dugout canoes, canoes with outtriggers, inshore dhows and the majestic ocean-going dhows.
Lateen sails were adopted from Arabic mariners. Few of the boats have modern navigational aids, sailors being guided by the stars and the smell of land. longevity of boats is particularly important, locally made hardwood last for up to 20 years.
Spices 
Zanzibar once produced over 90% of the worlds cloves, three-quarters of this on Pemba. Cloves, deriving from the french word clou (a nail), were introduced to the Island in 1812 from the french possesson of bourbon (now reunion). The sultan descreed that three clove trees must be planted for every coconut tree. Cloves are the bud from the harvest and some trees arfe now 150 years old. the buds are separated from the steam before being dried on palm leaf mats. The best quality buds are retained for coocking, pickling ad the making of wines and spirits.
While Zanzibar is mainly known for cloves, the islands produce about 50 other spices. These include aniseed, bay leaves, dill seeds, fennel, garlic, ginger, lemon grass and turnmeric.
Jozan National park
Lying in a shallow trough on the fossil coral bedrock, this mature tropical forest is an hours drive southeast of Zanzibar town. Most visitor go to Jozani to see the conspicuous Zanzibar red colobus monkeys, 13 species of red colubus being found in Africa.
The seasonal flooding, wooded fresh water lake and very high watertable, are vital componets of this unique forest swamp. A boadwalk takes visitors into the mangroves forest and there is also a nature trail where guides show  Zanzibar rich and diverse envinmental masaic. On the permanently wet trail, oil palm, walking palm, raffia palms and Wild date palms will all be seen.
Zanzibar -tanzania can be visited year-round but April, May, and November can bring heavy rains. Island life can also be pretty hot and humid, so we highly recommend a resort with air conditioning.